Description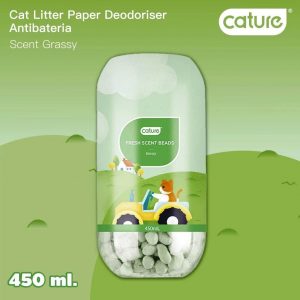 Cature Fresh Scent Bead | Cat Litter Deodorizer
Cat Litter looks good after a week, but there's STINKY ODOUR 😩in it! Don't Throw… Just Sprinkle some Cature Fresh Scent Bead☘️ in it👏👏
Cature Fresh Scent Beads offers continuous freshness that goes beyond the litter box. These beads work to eliminate odors, Inhibiting bacteria and add a fresh scent to it.
Just sprinkle on top, and the odor-destroying technology will eliminate malodor on contact. They work with any type of cat litter, and they won't cause any messes or dust. The only is, Floral scent, Ocean Scent or Grassy Scent?
Key Benefits
☘️Deodorizing litter beads work to freshen up your litter box.
☘️Eliminates odor on contact and leaves behind a fresh scent.
☘️Inhibiting Bacteria which had contact with the Beads.
✅Works with any type of litter and won't cause a mess or dust.
✅Just fill the cap, sprinkle on top and discard with your usual cleaning routine.
❤️So Which Scent Do u want to choose?